GlobalFest 'fireworks festival' returns to celebrate its 20th anniversary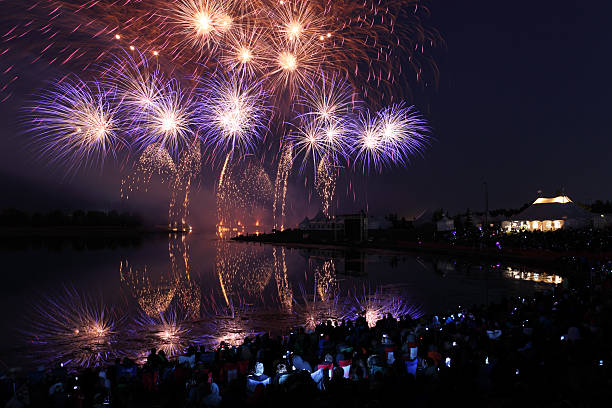 Posted Aug 21, 2022 05:28:08 PM.
Last Updated Aug 27, 2022 11:35:06 AM.
The GlobalFest Festival is set to make a full-scale return after being on hiatus for the last couple of years due to the COVID-19 pandemic.
The OneWorld festival presented by TD displays the amazing diversity of cultural talent in Calgary from a multicultural context by partnering with 24 different cultural pavilions.
The week-long festival showcases a well-known international fireworks competition featuring India, Austria, France, and Germany, alongside multicultural programming.
And this year, GlobalFest celebrates its 20th anniversary.
GlobalFest originally began in 1993 by the Calgary Fireworks Festival Society, providing a platform for pyrotechnics shows.
GlobalFest's Chief Operating Officer, Ken Goosen, says he and his team were at one point doing fireworks shows across the country in Toronto, Montreal, Ottawa, and Vancouver and noticed there was nothing of the sort in Calgary at the time.
It took nearly 10 years to build a solid business plan for an international fireworks competition. And in the early 2000s, this dream finally became a reality.
"In 2000, we were invited to the BirthPlace Forest announcement at Ellison Park. And all of a sudden, there was a lake, a park with a lake that we could put thousands of people around. And so we thought, cool, we've got a perfect venue for fireworks. And so there we started the journey of connecting to the community," said Goosen.
From there they collaborated with International Avenue BRZ and the International Avenues Arts and Culture Centre to incorporate aspects of multiculturalism into the event and to bring the plan to fruition.
As a former Winnipegger, Goosen says they took inspiration from a local festival called Folklorama and in 2006, they combined the cultural pavilions and multicultural performers from the OneWorld festival together with the fireworks showcase.
---
---
In 2007 they relocated from Pembroke Meadows to Elliston Park marking it as their official venue for the GlobalFest until today.
This move significantly increased the number of people coming to the event, with an average of up to 100,000 attendees every year.
"So by bringing the OneWorld into Elliston Park, all of a sudden, it was almost a 10-fold increase in people participating and people visiting and learning about the cultures."
As for the actual fireworks competition, Goosen says attendees can expect the most amazing pyro-musical designs from around the world.
"Fireworks is a centuries-old, well, it's a millennia-old art form starting back in China. And over the years, they have changed."
Their supply of fireworks is also curated from across the globe.
"So we have product in Calgary that comes from China, we have product that comes from the US, we have a fair amount of product that's coming from Europe, and then some from Mexico," said Goosen.
The fireworks competitions are based on strategy and artistry with intricate designs ranging from colourful hearts, smiley faces, and floral expressions to horse tails and bridal veils.
There are set requirements for each showcase, including having to use the appropriate music representative of their heritage and culture.
"It's all choreographed to music, so 50 per cent of the music needs to come from the country of origin," said Goosen.
The music also has to be precisely timed with the launching of the fireworks to gauge how far in advance they would need to go as some of the fireworks effects will be 1000 feet up in the sky.
"And designers need to know because when you're shooting a fireworks effect up, you need to know how long it's going to go up as to when it breaks," said Goosen.
Goosen also adds that Elliston Park is one of the few venues in the country where they can shoot fireworks into the water, another requirement in which competing teams are heavily judged for the final score.
---
---
Last year's winning team was India and they were invited back again to compete as the former champions.
"And so with Austria's presentation [for the] first time ever that they had come to GlobalFest. In fact [for] the designers, it was the first time for them coming to North America. So it was a huge experience for them."
"We have had teams from France in the past, and there they had a long history and fireworks."
"And then Germany, we've had Germany before as well. And the last time Germany was here, our audience with some of our audience members were left weeping because the show was so impactful, that it really drew emotions out of them."
All the festivities are capped off with a big finale event next Saturday evening which will bring in pyrotechnic designs from all across the world and is helmed by Kelly Guille, their fireworks director.
Goosen compares having four different countries collaborating in the finale as akin to having four chefs in the kitchen all trying to agree on a menu.
"So our fireworks, they themselves are not just fireworks, they're their storylines behind this purpose. They're intense, and there's a lot of criteria that they need to do so. It's big, it's majestic. It's awe-inspiring, and people just need to come," said Goosen.
Although it began as a fun fireworks experiment it had grown into a celebration of diversity and inclusivity.
Goosen says the meat of the program is the three hours prior to programming prior to the actual fireworks where Calgarians can attend performances at the cultural pavilions and partake in tasting different ethnic cuisines from local vendors.
Goosen says oftentimes there is little opportunity for multicultural performance groups to perform outside of their own communities.
"Global Fest has given them a platform to showcase their amazing talent of the arts and the creativity behind the costumes, and to share their story, their cultural story, and their role in the Canadian cultural fabric," said Goosen.
---
---
The festival is also all about going green as it advocates sustainable initiatives and has some eco-friendly options in place, the biggest being that all of the fireworks presentations are carbon neutral.
Goosen says oftentimes when people think of fireworks they think of the polluting after-effects from the smoke and debris — but in the case of GlobalFest, they have actively reworked the inputs to offset pollution and advocate for environmentalism.
"But it's also working with the industry to remove the plastic and remove some of the elements that are there, that are more toxic, and you know, changing plastic back to paper," said Goosen.
"Because with [the] responsibility to the environment, we need to be doing that as well as as a sector and as a festival," said Goosen.
As for waste diversion, discarded waste gets properly sorted into recyclable containers, compost, and garbage bins to ensure as little as possible goes into the landfill.
The festival committee also invests an extra week after the festival to thoroughly clean the park.
"It takes a week of full-time work with a team of 10 to 12 individuals to clean the park after the festival," said Goosen.
They are also pioneering a tree planting initiative in various new parks across the city.
"We are also in the next couple of years [are] going to be planting groves of trees in the city in various new parks that are developed to help do some carbon offsets with them. They're going to be called GlobalFest Groves."
But GlobalFest is more than just an annual one-off event – the fireworks and multicultural performances are just the tips of the iceberg.
GlobalFest also has offshoot programs it hosts year-round for new immigrants, refugees, and even youth.
"Elliston park now is really the punctuation mark of a year's worth of activity. There's year-round programming that we have that's into the community, whether it's a One World Festival, our Human Rights Forum, or any of those other aspects," said Goosen.
For example, during COVID-19, for one of the pivots they went through, they created a cooking program with chefs from different ethnic cultural groups working together to present unique flavor palettes to share an ethnic cultural story.
---
---
They also do summer programs for immigrant youth.
"We had a summer program with a number of immigrants from refugee youth, and used urban arts as a way to engage and to learn more about their stories," adds Goosen.
Although COVID-19 regulations have been officially lifted in the province, Goosen said some still may be uncomfortable attending large and outdoor public events.
But he adds there is no need to fret as they have strategically spaced out more within the park venue.
Apart from emerging from COVID-19 restrictions, other difficulties they have faced in planning the event are volunteerism, funding, and supporting local businesses.
For starters, there has been a lack of youth volunteer cohorts choosing to participate as compared to years previous which Goosen says has a lot to do with younger people being cooped up indoors for the last couple of years and being less motivated to participate.
There have also been a lot of small businesses struggling with their employment levels and ensuring there is enough staff for the event.
Secondly, fundraising has been a challenge as many of the government support programs that have been carrying them have timed out.
"So it's been really tight on the funding side. So it's been a challenge, there have been many sleepless nights, the staff have been working tirelessly, on a commitment to say, this is so important, we are going to do it," said Goosen.
"Because if we had to do GlobalFest without funding, external funding, it wouldn't be a viable opportunity, people could not pay [and] would not be able to pay the ticket price that we would need to charge," said Goosen.
---
---
And lastly, there have also been a lot of small businesses struggling with their employment levels, and ensuring there's enough staff for the event was a potential issue.
On a final note, as for how GlobalFest has helped to shape the culture of the city, Goosen admits the city has become a kaleidoscopic celebration of diversity as Calgary is now considered the third most diverse city in Canada.
"I moved to Calgary 32 years ago. And when my wife and I moved here, there were pockets of almost individual cultural communities, you had Chinatown, you had Little Italy in Bridgeland, you had different pockets throughout the city, where community was clustering."
"That was not the city that my wife and I moved into [and] that many of us moved into. And so as more and more cultural groups and groups around the world are moving to Calgary, GlobalFest is providing a platform for them to be able to profile and showcase their heritage and their culture," he adds.
GlobalFest has come a long way in bolstering diversity.
For example, over the last decade around 1000 people have become Canadian Citizens at Elliston Park.
---
---
One of the unfortunate challenges that arose from COVID-19 was the stereotypes and expressions of hate, especially towards underrepresented and marginalized groups, says Goosen.
"One of the challenges with COVID is that there have been expressions of hate and racism to many of the visibly diverse communities. And they've been blamed and people have been pushing back. And so there's a lot of community healing that needs to be done," said Goosen.
He says the key to diversity, inclusiveness, and acceptance is genuinely making a connection with one another.
"And we're keeping that alive, but at the same time, making sure that it's done in a way that's respectful, and not about tolerance, but about engagement. It's about embracing that diversity. It's about embracing the uniqueness that we all bring to the community to say that diversity is a major opportunity for strength because it challenges us to all think differently, right?"
"Rather than thinking through our own filters, we also need to think through the filters of the people we're working with."
"And that really does change how we are and what we do and why we do it. And GlobalFest is just a small cog in all of that work. And that's work that we all need to be committed to be doing," said Goosen.