'A park without a name': Calgary pop-up art exhibit highlights Chinese history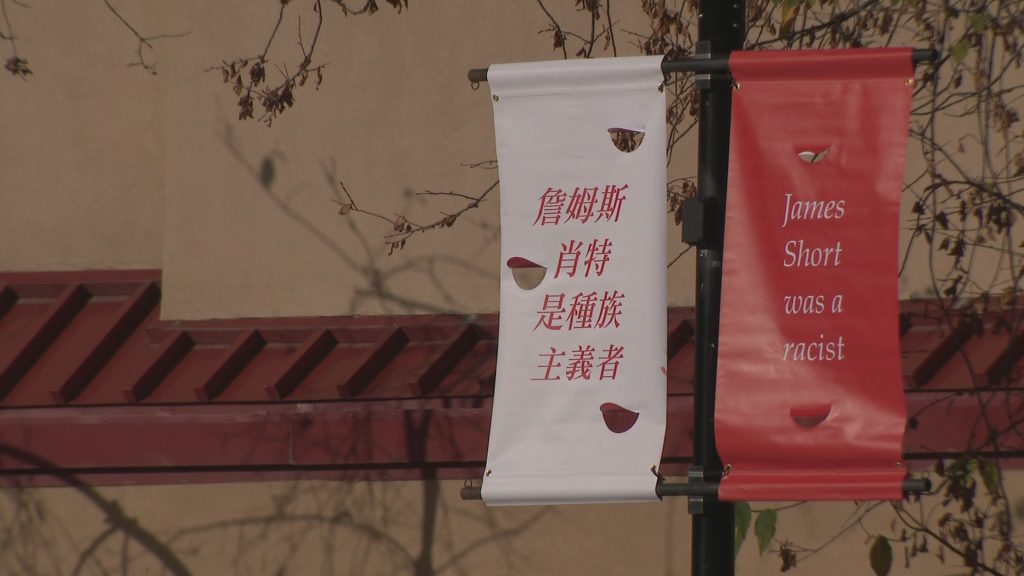 Posted Oct 25, 2022 03:24:31 PM.
Last Updated Oct 25, 2022 03:24:54 PM.
A pop-up art exhibit called "a park without a name" is shining a light on Calgary's Chinatown community as part of the city's plan to be more inclusive.
The exhibit features a series of seven banners with quotes written in English and traditional Chinese heard by artist Annie Wong while speaking with people in Chinatown.
The park formerly known as James Short Park is hosting "a park without a name" from Oct. 25 to 28, before it is renamed.
Wong, who created the exhibit, says her art gives voice to Chinese people and encourages Calgarians to think about who we name places and spaces after.
"The voices represented by the banners speak courageously and collectively against the erasure of Chinatown's history," said Wong.
Wong is referring to James Short, who the city describes as "a prominent Calgarian in the late 1800s and early 1900s whose anti-Chinese views contributed to racial injustice."
The park is being renamed to address Short's racist legacy and acknowledge the harm he caused to Chinese Calgarians.
"A recommendation on the new name that was chosen through community engagement carried out over the past year will be presented to Council on Nov. 1," the city said.
---
READ MORE:
Meanwhile, the city says says Wong's art may be uncomfortable to see, because it includes direct statements about racism. The city adds "the banners are an opportunity to lean into the discomfort and reflect on the systems and beliefs that allow racism to flourish."
Wong says it's important that Calgarians have tough conversations about racism.
"The history of racism is not something to be relegated into the past, but to understand that it exists in a continuum that affects and lives on in the fabric of our everyday lives," she said.
馬鳳齡 Fung Ling Feimo, local arts advocate and Tomorrow's Chinatown advisory group member, says Wong's art calls out racism and asks people to confront the truth.
"Through prompting words on banners, the artwork asks us to stare at racism and not look away while making space for those who are often not given the opportunity to speak. In this way, the banners transform the park into a symbolic space for the Chinese community to heal," Feimo said.
The city adds while the banners will be on display for four days, it hopes the conversation continues after the exhibit ends.
"Public art adds interest and beauty to a community. Sometimes, it also becomes a creative way to bring awareness to important social issues such as racism," said Jennifer Thompson, the manager of arts and culture at the City of Calgary. "When pursuing racial justice, we need to give artists a safe space to tell their stories and respectfully listen without judgment. Oppression thrives in silence."
To learn more about the exhibit and about Annie Wong's work, visit the city's website.