Calgary toy planes may continue flight with new home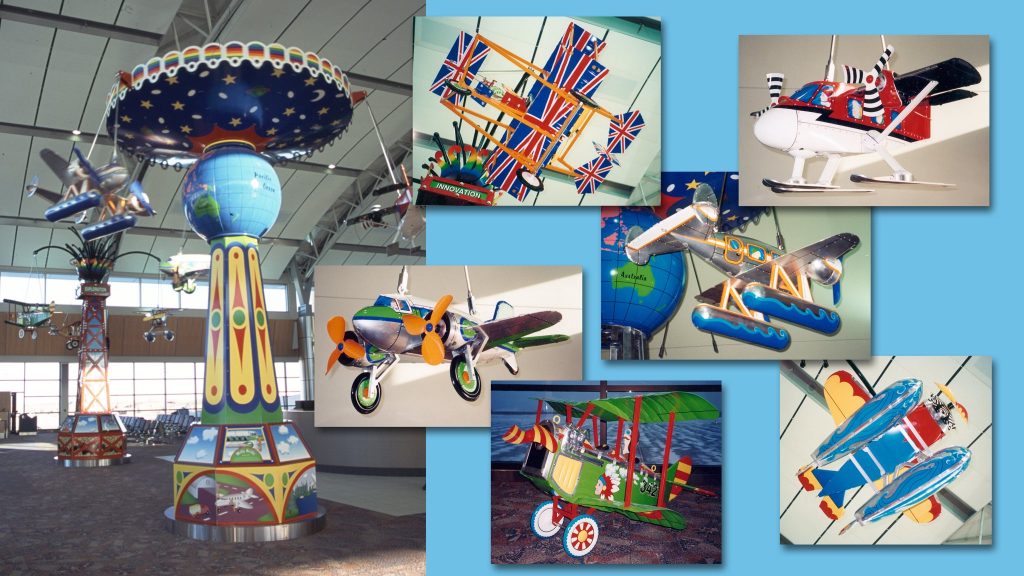 Posted Apr 24, 2023 11:45:35 AM.
Last Updated Apr 24, 2023 11:45:50 AM.
The large tin toy airplanes that delighted guests at the Calgary International Airport waiting area for 20 years are set to finally land, but another location may bring them on board.
Jeff de Boer, the artist behind the large toy planes, first announced on April 18 the planes were being decommissioned.
"Know anyone who might want two giant wind-up tin toys?" he asked in a tweet.
Since then, he tells CityNews he has been in talks with the City of Calgary and the Hanger Flight Museum about finding a new home for the art installation.
---
---
While the museum says it's interested, it says it doesn't have the storage space for the pieces in the short term due to renovations.
"We are having to come up with a solution, come up with some options to be able to store them in the interim until we have the space available for setting them up," Bryan Desjardins, the executive director for the Hanger Flight Museum, explained.
He says the museum is looking to replace its tent hanger with a 60,000-square-foot building.
"We've been working on that and fundraising … so that we have more space for toy sculptures, for historic aircraft that we know are under restoration and coming home soon. And also for more space for education and classrooms and multipurpose event space."
---
Watch: YYC airplane carousels find new place to land?
---
He says the museum is one-third of the way towards its goal of raising $60 million in three years.
"We want to keep those 20 sculptures in Calgary. We want the Hangar Flight Museum to be the home," Desjardins said.
"We're just we're reaching out to the community, reaching out to businesses, reaching out to everyone that will listen that we're looking for some off-site storage location … to store them."
While de Boer "could" sell the planes for a quick buck, he says it's important for the pieces to be available to the public.
"Some people say, 'Can you put this in my garage?'" de Boers said with a laugh.
"In the long term, I'm really looking for a way for the pieces to be back in the public in a way that they can be maintained as well and make sure that they stay together as much as possible."
'I just love airports and airplanes'
The planes were created for the Hammerhead section of the regional terminal at YYC.
De Boer tells CityNews he always loved planes and wanted to bring people back to a time of joy and flying.
"I just love airports and airplanes, and I wanted to try to capture that, that childhood joy that I had when I was a kid. I just love going to the airport," de Boer said.
He says he wanted the sculpture to be a "memory builder" for children. He explains the idea for the bright-coloured tin planes came from his desire to connect old ideas with new.
"I thought, wouldn't it be amazing if we could build a giant wind-up tin toy and have that for everybody because that would just be this exciting thing? Colourful, kinetic, interactive," he explained.
---
Watch: YYC airport's windup toy sculptures to be grounded
---
"The concept of creating two giant wind-up tin toys gave me the opportunity to explore six famous airplanes from Alberta and do tin toy versions of them. So it's part toy, part sculpture, and even part museum in the sense that you could have these interpretive displays, and people could learn a little bit about the history of aviation."
After he shared news of decommissioning, he says many people reached out to share their stories and memories of the planes. To him, De Boer says this is evidence that his piece has been a "success."
"There's been a lot of culture in history with people, millions of people seeing them and playing with them over the last two decades," he said.
In a statement to CityNews, the Calgary Airport Authority says the wind-up toy sculpture removal is part of its "Thematic Masterplan" to reinforce the airport's brand.
The planes are set to be decommissioned in mid-June.