Ex-Calgary mayor, former PM Harper pitch late day endorsements in Alberta election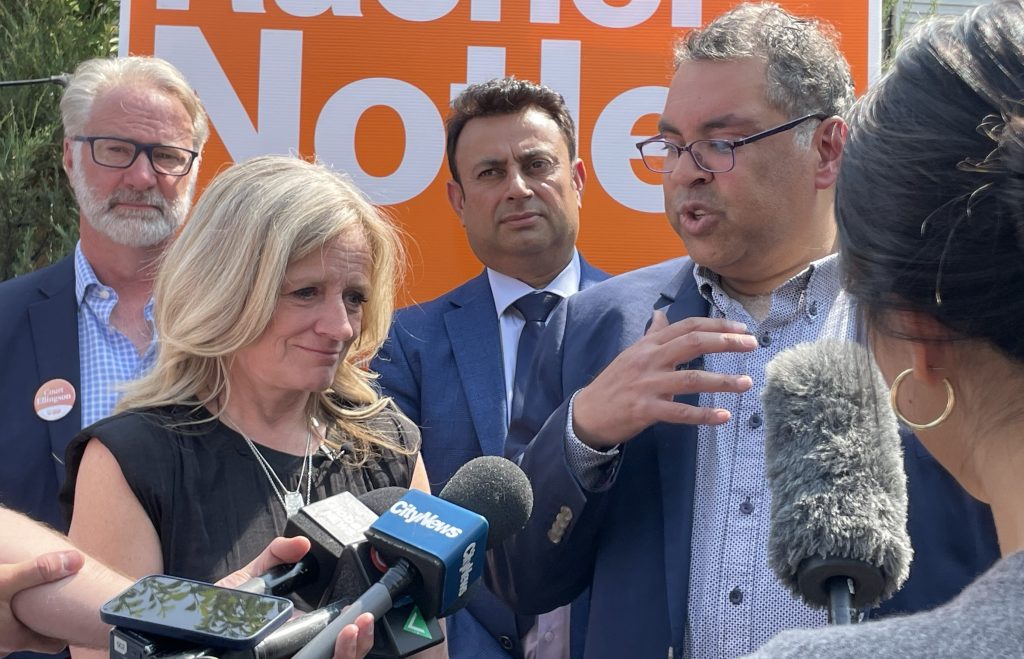 Posted May 26, 2023 05:46:58 PM.
Last Updated May 26, 2023 05:49:26 PM.
In a day of last-ditch Alberta election endorsements, former Calgary mayor Naheed Nenshi backed NDP Leader Rachel Notley on Friday while former Conservative prime minister Stephen Harper urged voters a second time to step up for the United Conservatives' Danielle Smith.
"On the balance of probabilities, the (election) platform for the NDP is better than the platform for the UCP, but that's not the critical thing to make a decision on," Nenshi, with Notley beside him, told reporters in Calgary.
"This is about leadership, it's about competence, and it's about trust.
"There's an enormous risk in returning Danielle Smith. She is someone that cannot be trusted, and I hate saying that. I've known her for 30 years. We've been friends, and yet when she said (earlier in the campaign), 'Don't look at what I say, look at what I do' — you can't say that as a politician."
Both leaders were spending their final campaign days in Calgary, considered the key battleground of the election.
Voters are now casting ballots in advance polls and election day is Monday.
Earlier Friday, Smith pointed reporters on social media to a video of Harper in which he states, "Rachel Notley and (Prime Minister) Justin Trudeau are a combination that puts Alberta's economy at great risk."
"In this election, there's only one option to protect the economic livelihoods of you and your family. That's Danielle Smith and the United Conservative Party."
Smith noted she also has the endorsement of current federal Conservative Leader Pierre Poilievre and urged her supporters to keep working with polls suggesting a tight race.
"I want to make sure that every single one of our incumbents is able to return on Monday," she said.
---
Related Stories:
---
Recently, Notley has been receiving endorsements from high-profile Alberta conservatives, including former Progressive Conservative cabinet ministers along with Blake Pedersen, who once followed Smith in a massive 2014 floor crossing of the Wildrose caucus to the PCs.
In an interview, Pedersen said he still considers himself both progressive and conservative, but doesn't see that reflected in Smith's UCP. He said he is a supporter of the centrist Alberta Party but said in this election, the Alberta Party doesn't have a candidate in his Edmonton-Centre riding.
Pedersen said in the absence of that, he is throwing his support to NDP candidate David Shepherd.
"With principles and policies, there's not much left with the UCP that I can find that aligns with what's valuable to me," Pedersen said.
He, along with Nenshi, said he has been concerned about comments from UCP candidates, which include Jennifer Johnson, who compared transgender students to feces. Smith has sent mixed messages about Johnson's future, saying Johnson won't be allowed in the UCP caucus if she wins, but also saying she believes in second chances and redemption.
"I just don't have any space for that in my political world," said Pedersen.
---
Related Stories:
---
Former Progressive Conservative cabinet ministers Thomas Lukaszuk, Jim Foster and Doug Griffiths have also announced they will lend their support to the NDP given their concerns with the direction of the UCP under Smith.
Griffiths said he, too, is an Alberta Party supporter but is lending his vote to the NDP as his riding does not have an Alberta Party candidate.
He said he is concerned with Smith's erratic leadership and with a sovereignty act Smith's government passed last year that he says will drive away investment.
He also said he is alarmed by the growing influence within the UCP of the Take Back Alberta group, a fundamentalist libertarian movement, some of whose members have ties to the COVID-19 convoy blockade at Coutts, Alta. In March, Smith attended the wedding of Take Back Alberta leader David Parker.
"Christianity belongs in churches, not in the legislature," said Griffiths in an interview.
"I believe in the separation of church and state. I don't care what you believe, but if you try and make your beliefs part of provincial policy to make other people follow it, you need to go. That's not conservatism.
"If people don't coalesce around the New Democrats, we're going to get Danielle Smith and Take Back Alberta, and to me this is one of those cases where you need to make a strategic vote."
---
Related Stories:
---
Foster, a former attorney general, has lent his support to the NDP as well and has questioned whether Smith should be facing criminal obstruction charges in light of an ethics commissioner report last week that concluded Smith tried — and failed — to convince Justice Minister Tyler Shandro to make the criminal court case against a Coutts convoy supporter "go away."
Smith has dismissed these comments as isolated sour grapes from former Progressive Conservatives who never got on board with her Wildrose leadership and opposed PCs and the Wildrose merging in 2017 to form the current UCP.
"It doesn't surprise me, I suppose, that people who opposed me back in the day when I was in politics before don't like me today," Smith said Thursday during an interview on Corus radio.
"The people who I have a lot of confidence in, who Albertans have a lot of confidence in, they've got confidence in our UCP team."