DynaLIFE out as Alberta's lab services provider after long delays, wait times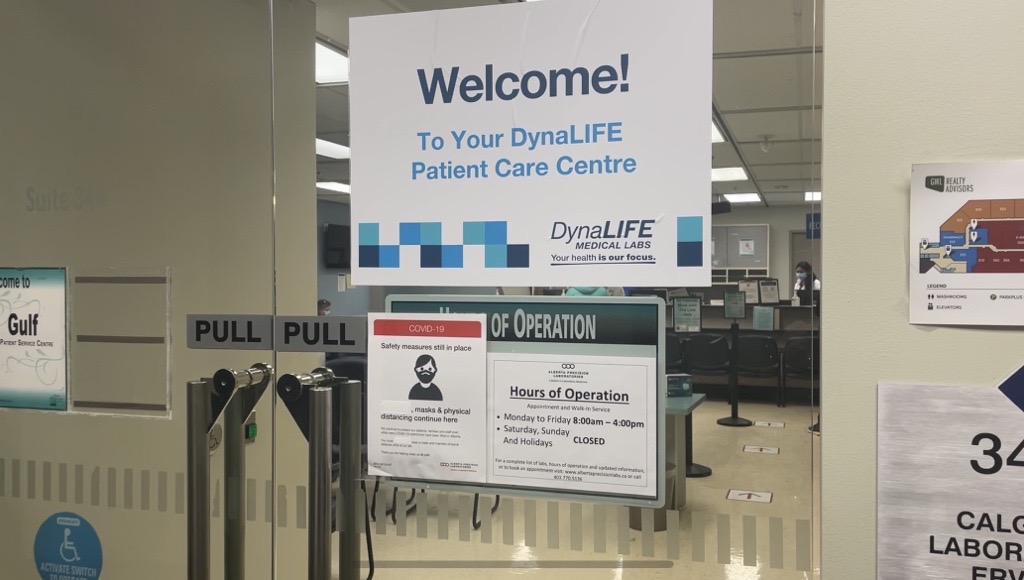 Posted Aug 18, 2023 12:53:05 PM.
Last Updated Aug 18, 2023 03:18:59 PM.
DynaLIFE is out as Alberta's provider for community lab services, less than a year into a transition which has been plagued by delays and long wait times.
The move from Alberta Precision Laboratories (APL) to DynaLIFE in December 2022 was touted as a move that would improve services for all Albertans.
Instead, it seems it has done the opposite.
In a Red Deer press conference Friday, Minister of Health Adriana LaGrange admitted there's been problems.
"One of the areas I've been hearing about most since becoming health minister is the challenge Albertans have in getting simple lab tests done, particularly in Calgary and the south region," she said. "Waiting weeks in some communities to book an appointment, or to get test results back is just not right and it is not acceptable."
LaGrange was tasked with fixing lab service delays in her mandate letter from the premier following the spring election.
The most recent attempt at resolving delays, particularly for those in the Calgary region was to add more appointments, LaGrange said.
Alberta Health Services-owned APL "stepped up to add hundreds of new appointments," LaGrange said, claiming that 700 new August openings were made in Calgary alone.
---
Related stories: 
---
While there was an improvement, the minister says it was clear more needed to be done.
So, APL will once again be the provider of community lab services in the province.
An agreement has been reached with the ownership of DynaLIFE to transfer staff, equipment, and property in all areas of the province to APL, LaGrange said.
This will be completed in phases and the full transition is expected to be completed by December — nearly one year after the initial switchover took place.
The minister would not discuss the cost of the deal.
During this time, Albertans will continue to get their testing done at the same locations.
The province says more appointments in Calgary and other areas will continue to be added as planned.
In a statement, Premier Danielle Smith says that improving the healthcare system is a "top priority" for the UCP government.
"It is wholly unacceptable that Albertans had to face long waits and delays to get simple blood work done," she said.
Associate Professor in the Faculty of Law and Cumming School of Medicine at the University of Calgary, Lorian Hardcastle, says that the initial move to DynaLIFE by the government was very much in line with conservative ideology.
"I think on the one hand it's surprising because once a government has committed to a particular policy direction and has sold it as being beneficial to the public, sometimes it's politically difficult to walk that back," she explained. "I also think for this particular government, of course, we tend to see right-leaning politicians believing more in privatization and the potential efficiencies of privatization — and so the move to DynaLIFE was in line ideologically with the party."
She says it was likely difficult for the party to walk back the decision.
"I think that the crisis that's happening right now within the lab services — people not being able to get appointments, results being delayed — all of that is foundational to people receiving quality care, and ultimately it seems that the government's hand was forced and they had to do something to address this issue," Hardcastle said.
Opposition, advocacy groups say privatization was an 'experiment'
NDP Critic for Health (Emergency & Surgical Care) said in a statement released following the announcement that she "constantly hears from patients and frontline workers about "extreme delays, and dangerous errors in lab work performed by DynaLIFE.
"DynaLIFE is the provider selected by the UCP after they destroyed Alberta's publicly owned lab system in 2019 and embarked on a three-year dedicated drive to privatize its crucial work," she said. "Now that public lab has to bail out DynaLIFE. This is the UCP's reckless experiment in privatization – all the money goes to a private operator, and all the risk lands on Alberta taxpayers and Alberta families."
Chris Gallaway, executive director of Friends of Medicare, calls the province's move to lab privatization a "failed experiment."
"After months of DynaLIFE failing to deliver on community lab services, leaving Albertans waiting weeks to access basic lab work, the situation has gotten so bad that the provincial government has finally had to admit their privatization scheme is a complete failure," he said.
Metz, who is also a doctor, said delays in the gathering and reporting of lab information ultimately impacts the treatment patients receive.
"If you have a throat swab, for example, the idea is that it's turned around quickly so the physician can then prescribe the appropriate antibiotics," she explained. "Or, a urine culture — if we're looking into whether someone has a kidney infection or a blood infection, we need the result back right away and if we don't get the result back for many days or at all, then the physician is going in blind with their treatment."
What went wrong?
Hardcastle recalls the transition from Alberta Precision Labs to DynaLIFE was a particularly rough one, and she hopes the government manages itself better this time around.
However, she says it's not exactly clear if the transition, or the rapid scaling up of DynaLIFE is to blame for the contract's downfall.
"It isn't clear what's gone wrong and that's actually part of the potential problem — if the government doesn't know what went wrong with transferring things to DynaLIFE, it's not clear that they'll know how to avoid those same problems in transitioning to APL," said Hardcastle. "Hopefully part of this plan includes figuring out what went wrong so the transition back is smooth and we don't keep those same issues.
APL was formed in 2018 but since December of last year, has only operated in Alberta hospitals, urgent care centres, and in rural communities without an additional community lab, according to the province.
-With files from Tiffany Goodwein and Jillian Code