Former Israel prime minister Ehud Barak speaks on Gaza war: 'We have to finish it'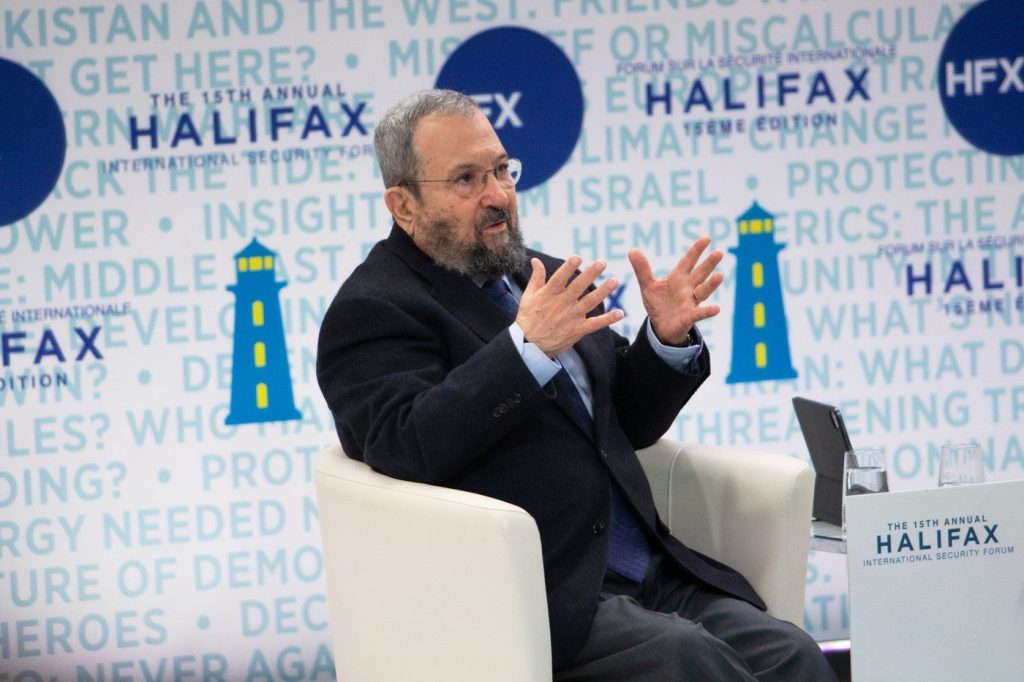 Posted Nov 18, 2023 05:00:00 AM.
Last Updated Nov 18, 2023 12:27:25 PM.
Israel must continue waging war against Hamas in the Gaza Strip until the organization's military capacity is destroyed, one of the country's former prime ministers said Saturday, despite the fact the mounting civilian death toll in the conflict has drawn increased criticism from world leaders.
Ehud Barak's remarks came on the second day of the Halifax International Security Forum at an early morning "chat" with PBS correspondent Nick Schifrin.
"We have to finish it," the Israeli former general told the 15th annual version of the three-day conference, which has attracted about 300 delegates from around the world to discuss ways to promote democracy.
"We have to complete it. It's a compelling imperative. Israel's government cannot survive if it cannot live up to its basic commitment to its citizens (and) if Hamas can … come back to power."
Barak's remarks came the day after a group of protesters chanting "free Palestine" gathered outside the hotel hosting the conference.
The latest war in the Middle East was triggered on Oct. 7 when Hamas militants stormed into Israel, killing an estimated 1,200 people and taking some 240 others back into their stronghold in the Gaza Strip as hostages.
Israel immediately declared war and has launched daily retaliatory attacks. Since the offensive in the Gaza Strip began, Palestinian health authorities say more than 11,500 Palestinians have been killed, two-thirds of them women and minors. They say another roughly 2,700 people are currently missing, possibly buried under rubble from intense shelling over the past seven weeks.
Barak, who was prime minister from 1999 to 2001, told the conference delegates he's a fierce critic of current prime minister Benjamin Netanyahu, likening some of his cabinet members to the U.S.-based far-right group Proud Boys.
But the former military chief of staff said Israelis of all political stripes are united in their desire to complete the war and argued Israel follows rules of engagement that seek to minimize civilian deaths.
"For Israel, any target is searched, sometimes more than once, and a legal adviser and expert on international law is consulted to ensure everything is done, as far as possible, in a way to minimize the risk of killing people," said Barak.
"People (in Gaza) are warned from Day 1 that if they are in a place where there is any activities by Hamas, whether a munitions depot, command post, training site, launching pad, they should leave this place for this is a target and we are going to hit it."
"We are sorry for any life lost … but that's part of war."
Schifrin, however, said he personally witnessed the Israeli military targeting Hamas leaders during its 2014 campaign, even when they were surrounded by their families and neighbours. "The United States doesn't have that policy and wouldn't take that shot," he said.
During a panel after Barak's presentation, several participants said they understood Israel's distress over Oct. 7, but argued the logic of the Gaza war is flawed.
Nancy Okail, president of the U.S.-based Center for International Policy, said there "has been a complete absence of a serious political path for Palestinians to live with dignity and rights."
Mouaz Moustafa, director of the Syrian Emergency Task Force, said the creation of hundreds of thousands of refugees and civilian deaths doesn't further the cause of democracy, whether in Gaza or elsewhere.
"One out of 57 people in Gaza have been killed or injured since Oct. 7, and we have dozens of journalists who have been killed, food and water and other necessities have not been allowed in," said Moustafa.
"Such a campaign, where there are thousands and thousands more children being killed than Hamas fighters, is not something that makes Israel or the West safer," he said.
In an interview later in the day with several journalists, Barak said his hope is that the Palestinian Authority, based in the West Bank, would govern Gaza after the latest war comes to an end.
"Bring back the original, internationally recognized owner … that might be the solution. Of course that's not the current (Israeli) government's position. I think they're wrong and I'm right," he said.
He also said that while the time "is not right" to pursue a two-state solution, creating a sovereign Palestinian state remains the ultimate pathway to peace. In 2000, he pursued that option during failed peace talks held at Camp David with former president Bill Clinton attempting to mediate.
Prime Minister Justin Trudeau has repeatedly called on Israel to show "maximum restraint" to protect civilian life in Gaza, and has said, "the world is witnessing this. The killing of women and children, of babies."
Barak said he would prefer to hear Trudeau "following the tone of the first days" after the Oct. 7 Hamas incursion, when the focus was on condemning the attack and the taking of hostages.
"But we will send our fighters anyhow to destroy Hamas even if most of the leaders in the world say it's not the right thing. We have no other way to protect our people," he said.