Pro-Palestine protest takes turn, arrests made for 'unlawful conduct': Calgary police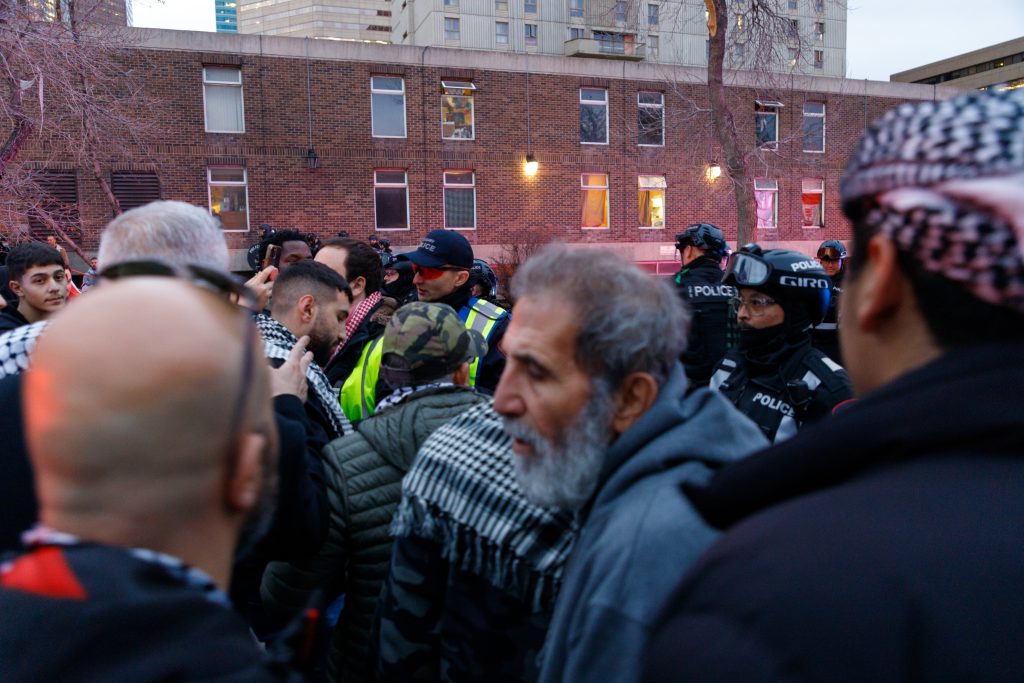 Posted Nov 19, 2023 07:57:10 PM.
Last Updated Nov 26, 2023 09:12:11 AM.
A peaceful pro-Palestine protest in downtown Calgary Sunday took a turn after the group separated and police made several arrests, charging three with assaulting a peace officer.
"Leading up to the event, we engaged with several community leaders and protest organizers, who indicated they expected large crowd sizes. In response, a number of CPS resources were deployed in anticipation of today's event," the statement reads.
The Sunday protest which started at the Municipal Building had over 3,000 people, police told CityNews. In an updated news release, officers say it was 2,000. The weekly protest is organized by Justice for Palestinians and starts at 2 p.m.
Crowds were peaceful, and police kept a smaller, nearby pro-Israel demonstration separated from the group.
"A significant majority of demonstrators were co-operative with police, and acted in a lawful, peaceful and respectful manner," the updated statement from police reads.
At around 3:15 p.m., the pro-Palestine group marched down Stephen Avenue SW, turned on 5 Street, then again onto 9 Avenue and made their way back to the Municipal Building for more speeches.
Police said smoke devices were deployed within the crowd as the group marched, adding several roads were closed for public safety.
---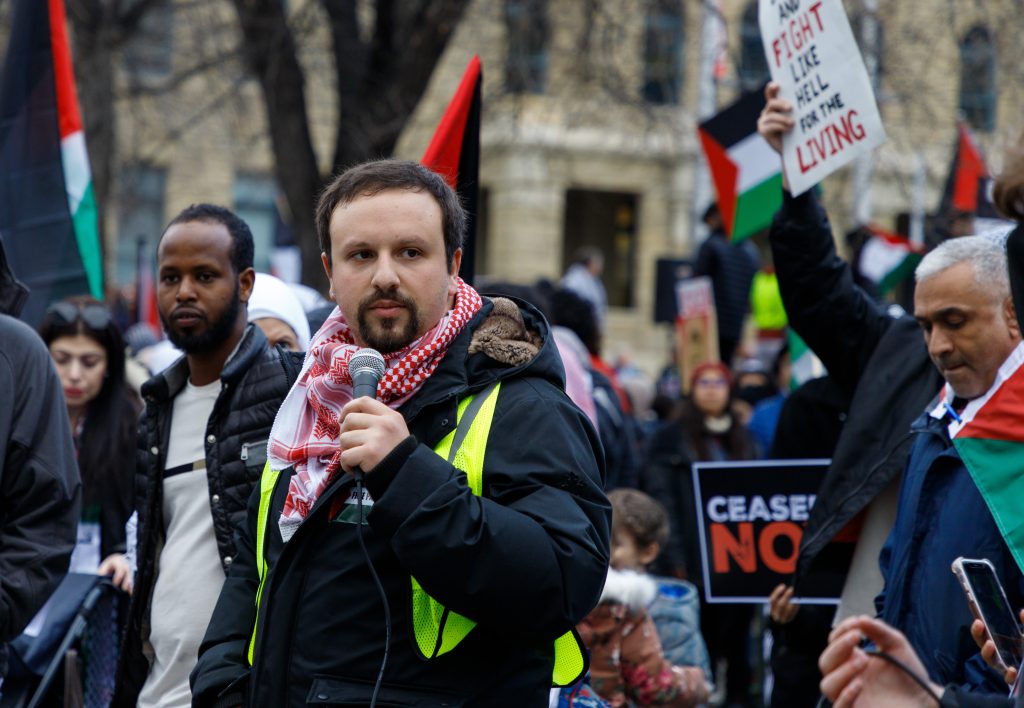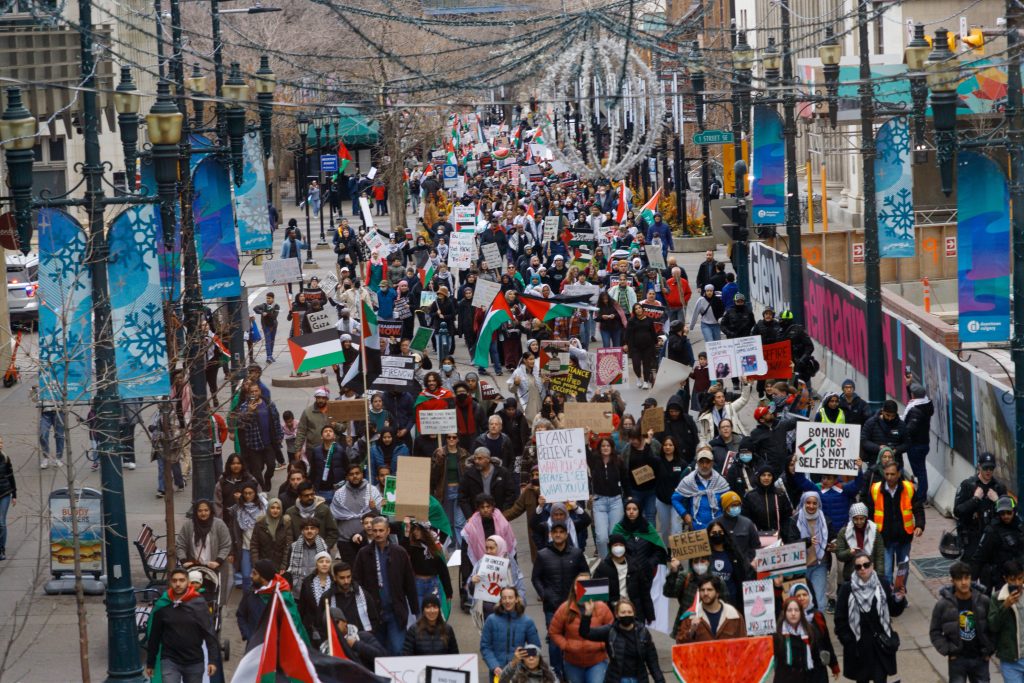 ---
However, sometime between 4 and 4:30 p.m., police say 100 people broke away from the main group and made their way in the direction of the Harry Hays building, according to witness accounts.
Officers met them at Macleod Trail and 4 Avenue SE, where witnesses say police halted the march and made several arrests. Officers say the protestors were "causing a complete blockage in traffic."
Police say the behaviour escalated, leading to the arrests of five individuals.
Meanwhile, following the arrests, more protestors from the Municipal Building arrived at the intersection, shouting for the release of those arrested, as they felt the arrests were unjustified.
Police continued to hold the section, while protestors confronted them at first, then settled into holding the location. They left the scene at around 5:30 p.m.
As a result of the obstruction, three have been charged with assaulting a peace officer, while a fourth person was charged with obstruction of a peace officer.
Officers say the fifth person arrested at the scene was released without charges.
Calgary police said Monday three people — 30-year-old Wassime Taha, 25-year-old Wafik Kassem, and 25-year-old Mohamed Hamdanie — have all been charged with one count of assaulting a peace officer. Investigators say this is in relation to the individuals "pushing against police officers to break through the police line."
Those three are set to appear in court on Jan. 12, 2024.
Mervat Hamdanie, 27, has been charged with one count of obstruction of a peace officer. Police say this is because she "[interfered] as police attempted to make an arrest."
She is also set to appear in court on Jan. 12, 2024.
Investigators also say that while arrests were being made, a youth was "briefly taken into custody for his involvement in attempting to break through the police line."
Police add after his arrest, the child's parents were allowed behind the police line to "de-escalate the situation."
The minor was released without charges.
---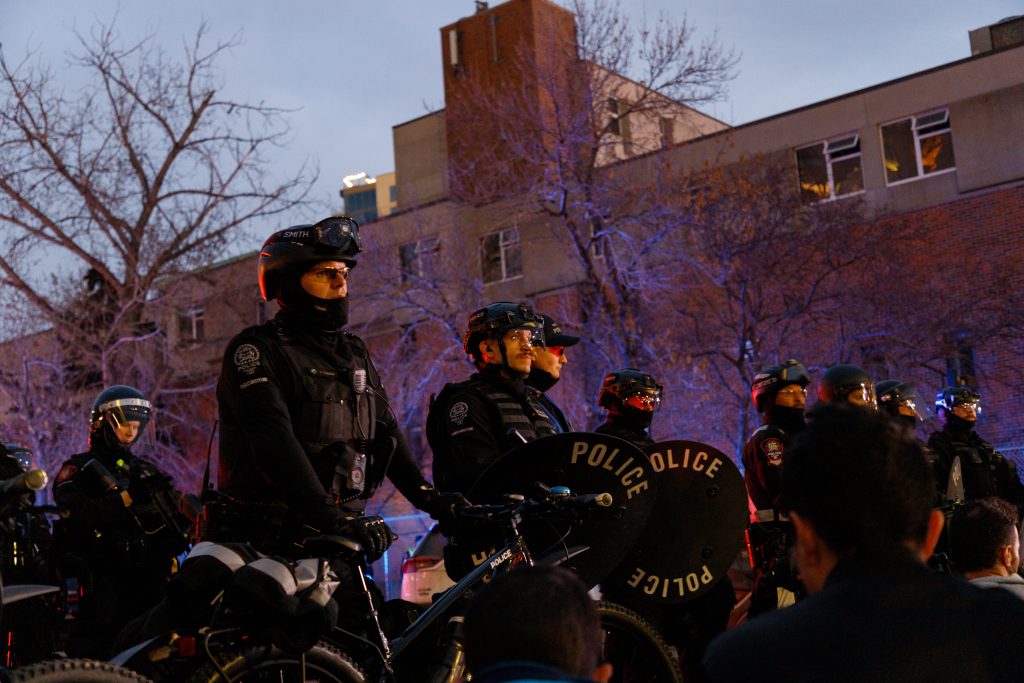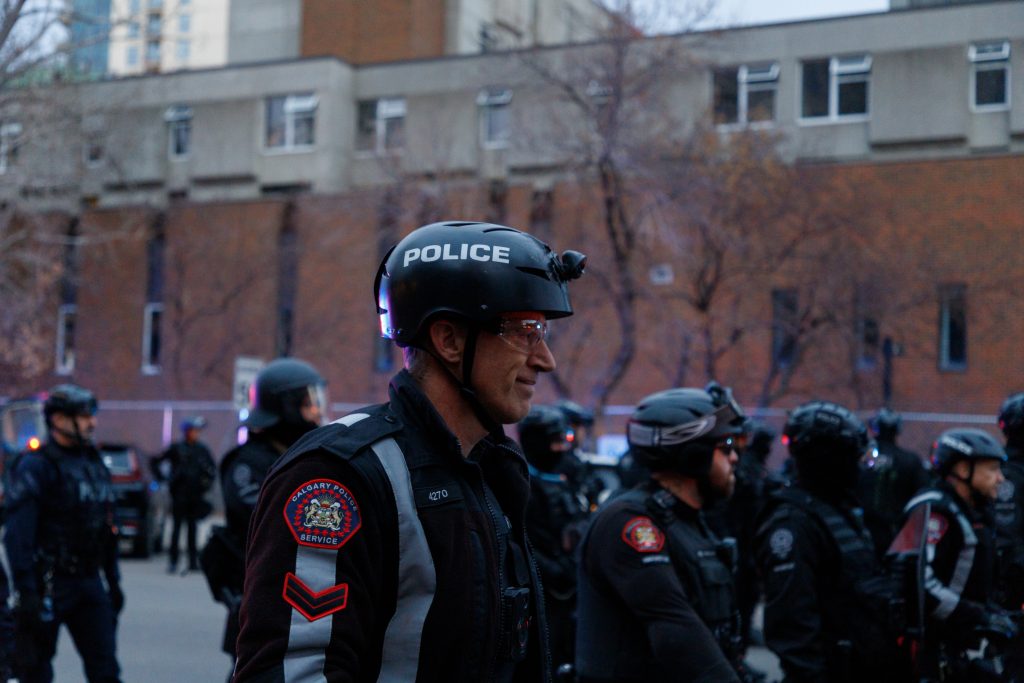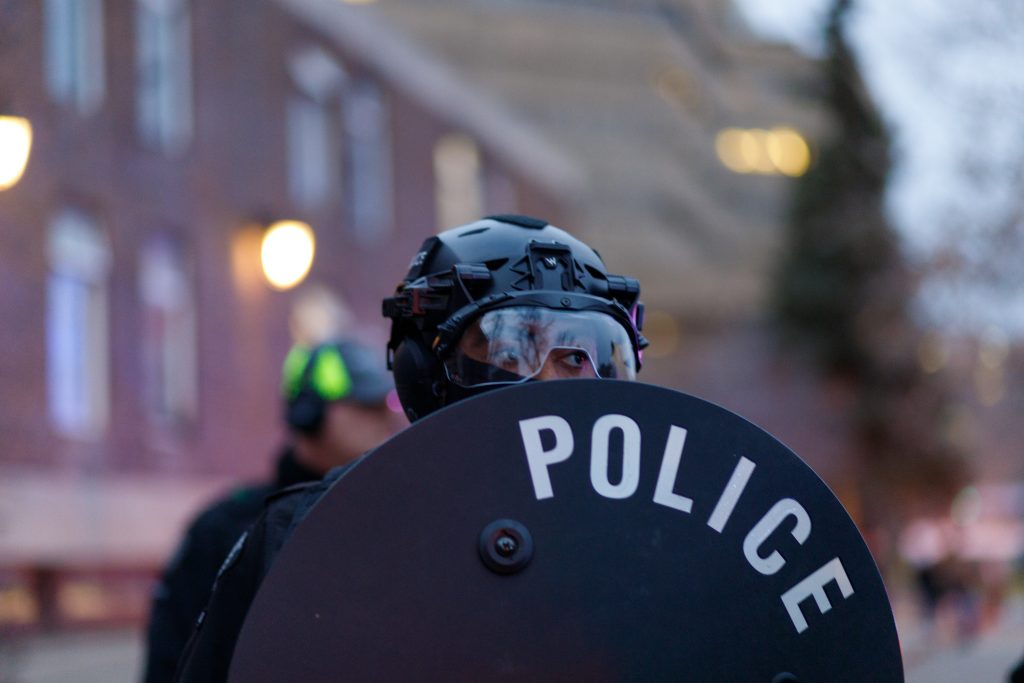 ---
As protestors continued to shout for the release of those arrested, they alleged a pregnant woman was one of them, adding she was knocked to the ground by police.
Marcelle Jaha, a protestor and witness, says she was with the group. She explains they were protesting at the intersection when police started arresting people and shoving people off the road violently.
"I did see someone that I know personally, who was pregnant, was tackled to the ground. Her hijab was taken off. So they stood her up and pushed her against the vehicle, and I walked over there and asked if I can help her put her hijab back on and they allowed me to do that," she said.
"I turned around, and they were shoving us with their shields to get off the roads — like full force shoving us."
Calgary police said in a statement on Monday that during Mervat Hamdanie's arrest "her hijab became displaced, and officers immediately allowed this to be rectified."
An officer at the scene said any unplanned road blockages are illegal protests.
This follows the arrest of Justice for Palestinians organizer Wesam Cooley, who was charged following a protest on Nov. 5 with causing a disturbance, and a hate motivation had been applied to that offence. His charges were stayed Friday by Alberta's Crown Prosecution Service.