ATA voicing concerns around polling stations planned at Calgary schools
The Alberta Teachers' Associations shared safety concerns Tuesday over election polls being set up in schools during the pandemic.
Posted Aug 24, 2021 05:42:55 PM.
Last Updated Aug 25, 2021 07:02:47 AM.
CALGARY (660 NEWS) — The Alberta Teachers' Association (ATA) is raising concerns over polling stations expected to be held at Calgary's schools this fall.
"Our concerns are safety. We are still in the middle of a pandemic and we need to make sure that everything that is being done is being done to ensure the safety of the folks who are working and learning in those buildings," said ATA president Jason Schilling.
He recalls his own experience voting in previous elections, trekking halfway through an elementary school in his neighbourhood, just to get to the gym.
"I think during a pandemic, and in a case where we're seeing the Delta variant take hold within our communities it's unreasonable to me to have people walking within a building like that," he said.
Elections Canada says it is mitigating the risk of holding the federal election on Sept. 20, during a pandemic by implementing many COVID-19 measures.
"During the election, we want to make sure electors and election workers are safe," states the Election Canada website.
The voting authority says it will be enforcing mask use and social distancing and will be providing single-use pencils to try to mitigate the spread of COVID-19.
"Health and safety measures may vary by province or territory. Stay informed and follow public health advice."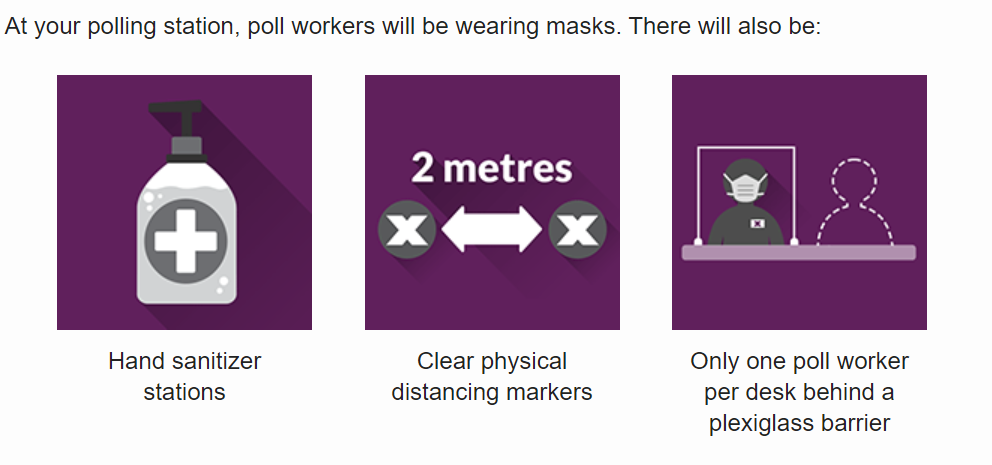 However, Elections Canada says people working at its polling stations don't need to be vaccinated.
Both the Calgary Board of Education (CBE) and the Calgary Catholic School District have confirmed some of their schools will be used as polling stations for the federal and municipal elections this fall.
"CBE schools are made available for use as advanced and regular polling stations for federal, provincial and municipal elections, as mandated by the Elections Act," stated the CBE.
"Our schools will also be used for the municipal election on Oct. 18. This is a non-instructional day and students will not be in the building."
While the school boards do their best to try and prevent any COVID-19 related issues that may come with voting within schools, Schilling says he would encourage Elections Canada to look at alternate locations for polling stations.
"They have to ensure that if they are going to use this space, that everything is in place, and that there is also measures put in place for cleaning afterwards," he said.
"And, maybe it's important that during the election times, that they have HEPA filters within those spaces as well to be cleaning the air."
He adds, community centres could be a viable alternative.
"There are other spaces within communities that can serve for this purpose without having to use schools."
---
READ MORE:
---
Lori Williams, an associate professor of policy studies at Mount Royal University, explains people need to have several options when it comes to when and where they can vote.
"They can go to Advance Polls, they could vote on Election Day, they could mail-in their ballot and it's important that there be choices to ensure that we get higher voter turnout," she said.
"Voter turnout is important for the democratic legitimacy of the election."
However, Williams says safety has to be considered as well and it'll be up to Elections Canada to figure out how to best fulfill people's right to vote, while in the midst of a pandemic.
"So it's very important that people have a choice to be able to vote if they don't want to wear a mask, (and on the flip side) if they do want to wear a mask and they want to make sure they're protected. It's going to be a tricky balancing act."