Alberta premier says he's doing a good job, but a poll suggests otherwise
Posted Mar 31, 2022 07:42:29 PM.
Last Updated Mar 31, 2022 08:05:49 PM.
Alberta's Jason Kenney says he believes he's doing a great job as premier, but a new poll suggests many Albertans feel otherwise.
A new survey from the Angus Reid Institute shows Kenney's approval rating the lowest when compared with other Canadian provincial leaders.
It also shows a majority of Albertans responding that they do not approve of his government's management of 13 different departments including healthcare, energy, and education.
Every single category shows most survey respondents saying they think the government's management is either poor or very poor.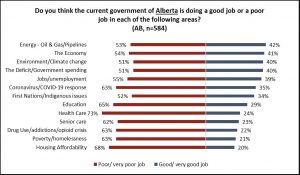 "In every file that tops the list of the things that are the most important going into elections, and most notably on the things he campaigned on doing a better job on, he's doing very poorly," said Lori Williams, a political scientist at Mount Royal University.
---
Read More:
I think what's interesting about the poll is it shows the UCP more-or-less in a statistical tie with the NDP. So, again, this looks like this is a problem with Jason Kenney's leadership, and of course, it's adding fuel to the UCP members who think they need to get rid of Jason Kenney if they're going to have any hope of winning the next election."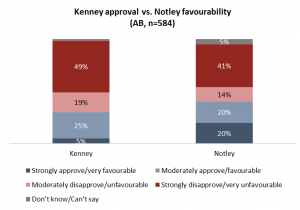 But Kenney doesn't see it that way. On Thursday, he said most people he's spoken with approve of his government and its management.
"What I've seen is incredibly positive comments coming from Albertans.
I've been all over the province in the last couple of weeks, thankfully we can get out and meet people again. I've been everywhere from Lac La Biche down here to Medicine Hat, and I'm hearing a positive spirit in this province," Kenney said.
"He cannot give a response that can spin these polling numbers in a way that works for him, so instead he focuses on the straw poll that he's doing by going out and meeting Albertas," Williams said.
---
Read More:
She notes the premier is likely going to hear what he wants to hear at events filled with his supporters, rather than people who believe he needs to do a better job.
"Well, the Albertan going to these events Jason Kenney is attending are already disposed to supporting [him]," she added.
"He's reading the response from people coming out because they support him, he's not talking to people that don't."
The UCP leadership review is on Apr. 9.
Mail-in ballots will be sent out to participants sometime after Apr. 9 and must be returned to the party by May 11.
The results won't be public until May 18.