Calgary coffee shop's 'Stabtown Special' draws mixed reaction
A Calgary coffee shop has become the talk of the town for a signature drink called the 'Stabtown Special'. Henna Saeed finds out why the drink was created and what all the buzz is about.
Posted Apr 5, 2023 10:37:01 AM.
Last Updated Apr 6, 2023 12:06:03 PM.
A Calgary coffee shop drink called the "Stabtown Special" is receiving mixed reactions online amid a recent spat of stabbings.
Located in Downtown West End, Loophole Coffee Bar is known for its character and vintage look.
But it's the name of one of its beverages that has people talking.
A post on Reddit showing a picture of a wall menu in the coffee bar has received more than 245 reactions and 80 comments as of Wednesday morning.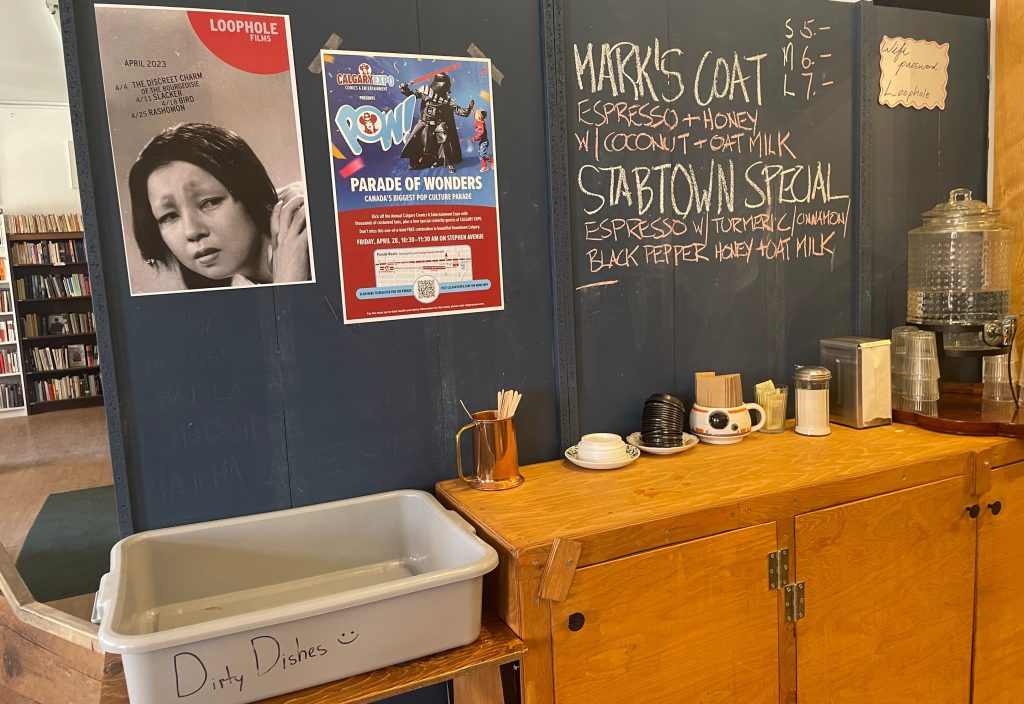 Some say the name is in "poor taste."
One user adds, "If this is Loophole, they should reconsider what they find funny. I doubt the victims see the fun here."
But not everyone is going against the business.
"It's a critique of culture, the sad state that regular people have to deal with thanks to the government and the lack of policing. People are allowed to have a sense of humour in tough times, it gets them through," one user writes.
Another commenter says there is room for using "dark humour" in light of a difficult situation.
Comment
by u/criollo_and_barley from discussion Calgary: Home of the Stabtown Special
in Calgary
"What i can't stand is the constant outrage machine that gets in the way of critical thinking. Clearly this business is not making fun of people that have been stabbed but at the ridiculousness of the environment we've let fester that would give rise to a nickname like 'Stabtown,'" they wrote.
Owner explains controversial name
Mark Landon Reynolds, one of the coffee bar owners, tells CityNews the name has a deeper meaning.
"Stabtown Special has been on the menu for about two years now. A lot of people who are first-time customers, they'll ask, 'Hey, what's up with the name Stabtown Special? That's kind of a weird thing to do,'" Landon said.
"And we'll just let them know that it's based on the neighbourhood that this coffee shop is in. There's been quite a few stabbings that have been happening, and the West End kind of gets forgotten by local city officials."
Landon is aware of the ongoing social media debate around 'Stabtown Special' and feels it's being taken out of context.
"We are not taking advantage of a horrible situation. It is merely not a coincidence because that's the intention of the name. It just so happens that now it's been picked up on certain online media that people are kind of taking it not in the light that it was initially meant to be."
---
Related Stories:
---
However, ER nurse Teisha says she finds the name disturbing.
"While we appreciate dark humour, and I understand that it can help cope, sometimes it's just not appropriate," she said.
"I think it's extremely disrespectful to the family — like that's extremely difficult for them. And to see that people are just making light of a situation is really heartbreaking."
Some Calgarians, like high school student Haris, say stabbings are a serious topic not worth poking fun at.
"I don't think it's something to joke about because it's a serious topic, and lives can be lost over it," he said.
Meanwhile, Landon wants authorities to take action and make Downtown West End a safer place for everyone to live and enjoy their life.