Over 80% of Canadians drive distracted despite known threat to safety, says survey
Posted Apr 6, 2022 11:25:57 AM.
Last Updated Apr 6, 2022 11:27:20 AM.
A new survey has found that an overwhelming majority of Canadian drivers drive distracted, despite them knowing how dangerous it is to their safety.
The survey from Rates.ca revealed that 83 per cent of commuters would engage in at least one distracted driving behaviour every time they get behind the wheel.
While many of the actions committed would be considered less dangerous than others, respondents still admitted they continue to drive distracted.
Of those who responded to the survey, 67 per cent say they eat or drink while driving.
"If drivers assume that non-technological distractions are less compromising, it's possible they may miscalculate the risk they're taking when engaging in them," read the report.
Another action considered to be distracted driving that may be surprising to some is talking to a passenger in the car.
Basically, anything that can take any attention away from the road is considered distracting, even if you may not get a ticket for it.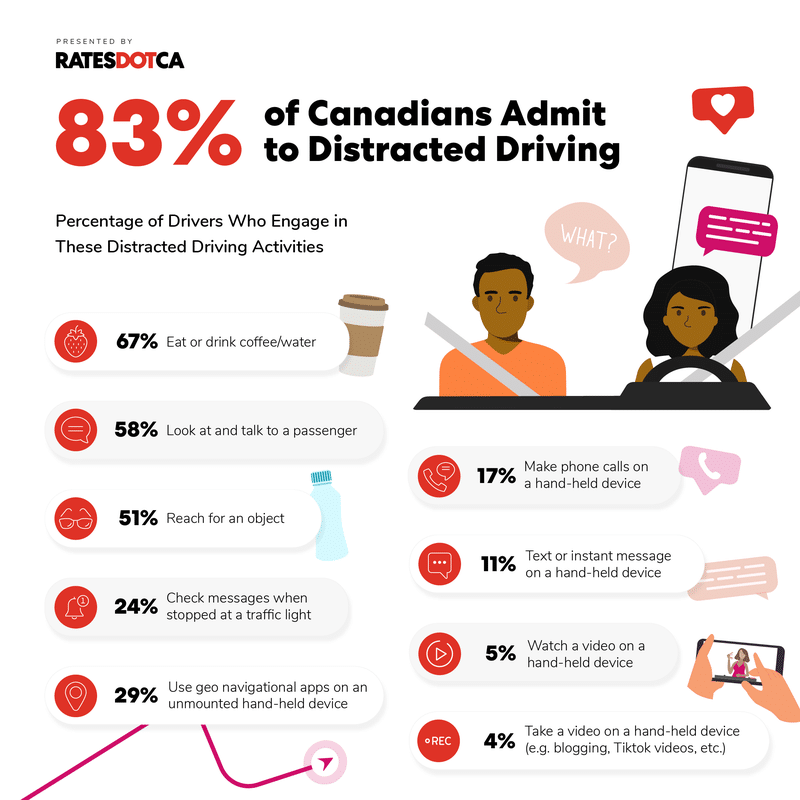 Some of the other distractions listed include:
Reaching for an object;
Checking phone messages while stopped at a light;
Make phone calls without using hands-free;
Using geo-navigational on an unmounted, handheld device.
As we move further down the list, the more severe infractions start to come up, including texting while driving.
Roughly 11 per cent of respondents say they do text and drive. Meanwhile, five per cent say they will watch a video on their phone while driving.
Drivers know the threat, but do it anyway
Of those who responded to the survey, 58 per cent say they understand just how dangerous distracted driving is, but will do it anyway. That's up from 47 per cent in 2021, and 40 per cent in 2020.
"Many Canadians partake in select distractions because they believe they're safe."
The common perception is that you can feel comfortable while being distracted and driving, but that in no way makes the task any safer.
Driving comes down to a series of mini-moments, some more drastic than others. And, if you happen to mix one of those moments with grabbing a coffee or looking over at your passenger, things can turn bad quick.
Three-quarters of those who responded to the survey say they are likely to eat or drink while driving and feel comfortable doing so.
A shocking number of people (44 per cent) say they will likely still answer a phone call handheld while driving and think it's safe.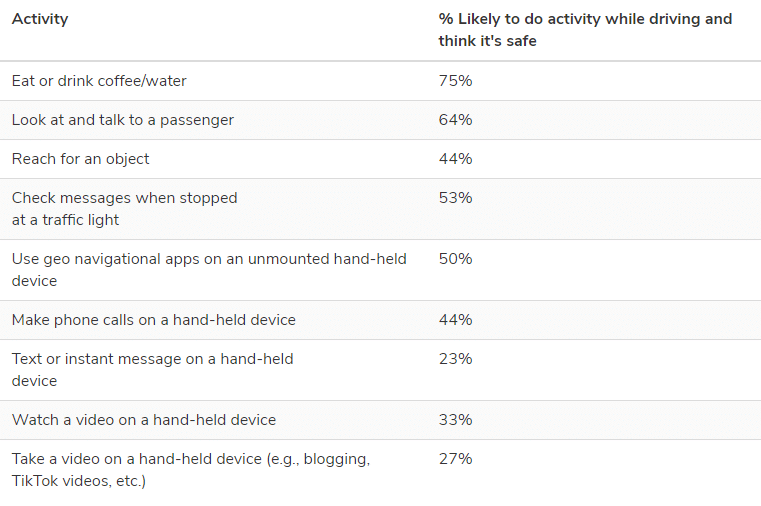 Alberta is the most distracted province
According to the survey, Alberta ranked highest among all provinces for distracted driving levels with 90 per cent saying they engage in at least one activity from the list.
Of those people, 58 per cent say the distraction is digital.
Not far behind in the comfort of driving distracted are prairie provinces Saskatchewan and Manitoba, with Ontario and B.C. next on the list.
"Comparatively, Québec saw the lowest percentage of people admitting to at least one activity on both the full list of distracted driving behaviours (73%) and the digital interactions list (36%)," said the report.
"The province also ranked among the lowest in six out of nine distracted behaviours, particularly when it comes to technology-related actions like taking a video."