Smith releases plan for sovereignty act; Kenney calls it 'catastrophically stupid'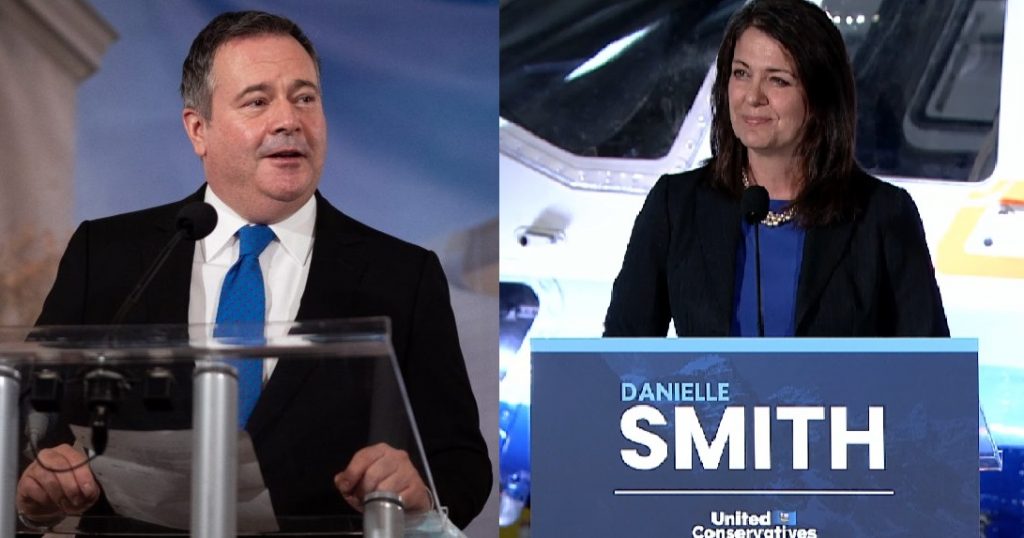 Posted Sep 6, 2022 06:03:11 PM.
Last Updated Sep 7, 2022 07:15:52 AM.
When Danielle Smith, a frontrunner in the United Conservative Party (UCP) leadership race, released the Alberta Sovereignty Act in full to the public on Tuesday, the premier had some choice words about it.
The largely controversial bill has been at the forefront of Smith's UCP leadership campaign, ahead of the Oct. 6 vote.
Alberta Premier Jason Kenney was questioned about the sovereignty act at a press conference. He lashed out in a lengthy critique, saying the act would bring Alberta closer to separating from Canada, along with creating more economic challenges.
---
RELATED STORIES:
"I make no apologies for speaking out against a cockamamie idea that is, according to its own authors, a step to separation," Kenney said. "If you think we've had economic challenges in the past, wait until you see a landlocked Alberta that has no use of the federal power to interprovincial power to get infrastructure like pipelines built.
"Wait until B.C. gets the idea that they can play the same game to block our pipelines."
Kenney also says the rule of law is a "fundamental conservative principle," and that the sovereignty act is a full frontal attack on Canadian law.
"Sharing the frustration of most Albertans about how we're treated by Ottawa, by the Trudeau government, I have always been unapologetically a Canadian patriot," Kenney said.
"I'm not about to become spineless on my patriotism or my support for the rule of law, because somebody in a leadership campaign disagrees."
The bill, Smith says, won't do that, and will challenge the federal government, which she says has policies that "have placed Canada on a path of division and disunity."
"In my view, the restoration and reassertion of provincial rights across our country will protect all provinces from the destructive overreach of Ottawa, and is likely the only viable way for Canada to remain a unified nation long into the future," Smith said in a release.
"The majority of Albertans are frustrated with the ineffective letter-writing campaigns and empty rhetoric employed by past premiers in dealing with attacks on Alberta by our federal government, and want effective action to deal with the 'Ottawa problem' without further delay."
Today, our campaign has released an expanded look at the Alberta Sovereignty Act, which will allow our province to stand up to jurisdictional & charter overreach by Ottawa.

To read more, including our FAQ, visit our site here: https://t.co/8lJZdd84NJ#cdnpoli #abpoli pic.twitter.com/j3N7CZP55J

— Danielle Smith (@ABDanielleSmith) September 6, 2022
Smith says "tens of thousands" of Albertans have embraced the idea of the sovereignty act, with many more showing interest in how it will work.
Smith also says the "woke media" does not support the idea of the sovereignty act, and says "they have turned to the tried and tested methods of fear mongering and disinformation to discredit the idea outright.
"Obviously, none of these so-called 'experts,' media members, or politicos have read the bill (as drafting legislation is not typically done during political campaigns as most understand), and are simply assuming the legislation will be unconstitutional in order to justify their knee-jerk opposition to the concept."
Kenney maintains he's not interfering in the leadership race – something Smith has accused him of – because he's commenting on a similar proposal from the 'Free Alberta Strategy' group, which was released last year, calling it "catastrophically stupid."
His comments came after an announcement on bringing more skilled workers to Alberta to support labour shortages.
With the announcement, a new advisory board will be created, which will be made up of 11 people called the 'Premier's Council on Skills'.
The council will provide strategic advice to ensure post-secondary schooling in the province is meeting the needs of industries in Alberta's recovery plan.
-With files from Mark Strashok and Taylor Braat