'Students cannot live on ramen alone': UCalgary club addresses food insecurity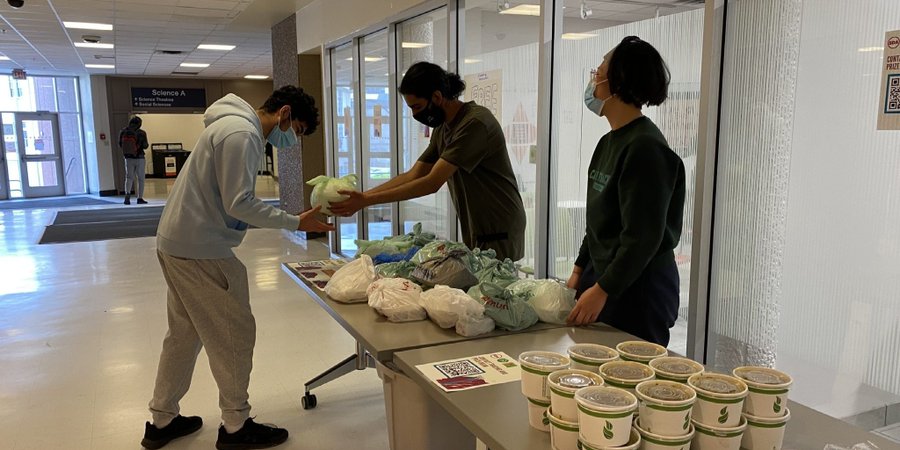 Posted Sep 18, 2022 05:48:44 PM.
Last Updated Sep 19, 2022 04:27:58 PM.
A University of Calgary (UofC) club is talking about student food insecurity after seeing the situation worsen during the pandemic.
"Students cannot live on ramen alone," said Isabelle Reynolds, the organizer and coordinator at Food Justice Now.
The group helped feed 850 students this past academic year, handing out bowls of dal makhani, lentil soup, or sandwich wraps.
"I have to admit, we spent the first year in a lot of meetings that didn't go anywhere," said Reynolds, who is in her third year with Food Justice Now. "But last year we decided to scrap the co-op idea and just respond to the problem which COVID was exacerbating: students were hungry."
#UCalgary student club, Food Justice Now, addresses student food insecurity, feeding 850 in the 2021-22 academic year https://t.co/Jj5IGbESXk pic.twitter.com/VXS3ugV3jf

— U Calgary (@UCalgary) September 16, 2022
The club offered students one free monthly meal thanks to "two much-needed grants," said Reynolds.
The club is usually made up of 10 volunteers. That can climb to 30 volunteers when there's a need to buy produce, cook, and distribute food for lunch.
They normally get the provisions from a discount grocery store in Calgary – Freestone Produce. The meals are then cooked at the Red & White Club's kitchen behind McMahon Stadium. They're then carried to Science B.
'How critical is food insecurity on university campuses?
Meal Exchange, a Canadian charity, conducted a survey in October 2021. Data from 6,167 students on food insecurity was collected from 13 Canadian universities.
The surveys shows a 41.7 per cent increase in food insecurity from 2020, with 56.8 per cent of respondents saying they faced some level of food insecurity.
The survey also shows an increase in moderate food insecurity at UofC from 47.4 per cent in 2020 to 66.1 per cent in 2021. Those numbers increased even more for Indigenous, 2SLGBTQ+ and international students.
"We all know that COVID-19 has been hard on students, from mental-health issues to our eating habits. But these numbers were shocking," says Reynolds.
Reynolds adds students want healthy and appropriate food that is not always available from "SU's beloved Student Food Bank."
---
READ MORE:
Last year, the Food Bank provided 139 hampers – 107 were given to grad students, 29 were given to undergrad students, and the rest were given to non-students.
International students used the service the most.
Michael Brown, a communications specialist with the Students' Union, says to ensure all food groups are included in the hampers, cash donations to the Food Bank are used to buy perishables, such as dairy products, fruits, and veggies.
Reynolds hopes to help more students in 2022 and to find a closer kitchen to the main campus to prepare the meals.
"The bigger dream is if students were no longer hungry and so we ceased operations altogether," she said. "But, sadly, I don't see that happening soon."