Alberta Premier Danielle Smith says she plans to cut ties with World Economic Forum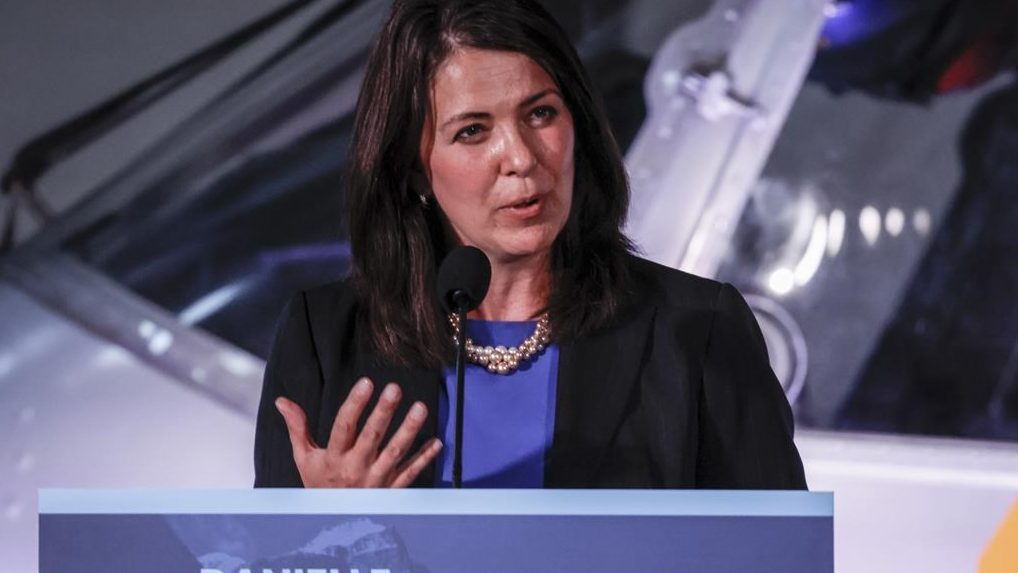 Posted Oct 24, 2022 06:28:40 PM.
Last Updated Oct 24, 2022 07:18:25 PM.
Alberta Premier Danielle Smith is doubling down on her promise to cut ties with the World Economic Forum (WEF).
Smith was pressed on the matter while speaking to reporters after her cabinet ministers were sworn in on Monday.
She was asked about conspiracy theories around the WEF, which include claims that a cabal of world leaders have used the pandemic to take capitalism out of the picture to promote socialism.
This comes after the premier said in a livestream Friday that she would sever ties with the WEF but didn't disclose why.
On Saturday during the UCP annual general meeting, when asked about her views on the WEF, she still did not clarify her previous comments.
"I find it distasteful when billionaires brag about how much control they have over political leaders," Smith said to reporters Monday.
"That is offensive. The people who should be directing government are the people who vote for them.
"Quite frankly, until that organization stops bragging about how much control they have over political leaders, I have no interest in being involved with them."
---
RELATED STORIES:
---
Smith said she agrees with federal Conservative Leader Pierre Poilievre, who has stated he and his caucus will have nothing to do with the WEF.
The premier also says the province should be "taking our healthcare advice," from experts in the province.
"I'm going to continue working with frontline professionals to solve the problems that we have here," Smith said. "And the problems that we have here are related to emergency services, ambulances, or emergency rooms, as well as the inability to get a surgical initiative at our rural hospitals."
Smith didn't refer to the WEF by name, instead calling it "the group" and "its leader" Klaus Schwab as "the person at the helm of it."
"I don't think he's a medical doctor. I don't think he's a nurse. I don't think he's a paramedic, and I don't think he's a health professional," Smith said.
"All the expertise we need for that is right here in Alberta."
Alberta Health Services (AHS) was invited by the WEF to a coalition agreement in 2020, which includes sharing ideas with the Mayo Clinic and Harvard University.
The WEF has been a lightning rod of conspiracy theories over the years, many of which were exacerbated by the COVID-19 pandemic.
A theory called the "great reset" was promoted by anti-vaccine followers. It called for ideas on how to organize global society past the pandemic, along with claims that the pandemic was being used to scan people and insert microchips into a person's bloodstream through the vaccine.
---
RELATED STORIES:
---
One of Smith's first actions as premier was to assert that she would release officials with AHS, including Alberta's Chief Medical Officer of Health Dr. Deena Hinshaw. Hinshaw officially remains until the end of the year, at which point Smith says she will announce a new management team.
Smith has said AHS botched the job during the pandemic by not fulfilling cabinet direction to increase capacity as hospitalizations soared, while also implementing vaccine rules that she says depleted staffing levels.
At the UCP AGM on Saturday, on top of giving a pro-Alberta speech that spoke of the sovereignty act, she talked about improving ambulance wait times.
She also said the province will not implement any vaccine mandates this fall, saying that "we know a lot more about this virus," something she says Alberta's health minister, Jason Copping, is in agreement with.
Smith is known for having contrarian views in the sciences. She once said in a newspaper column that an "anti-smoking lobby does more harm than good."
She has also made cancer claims that have been slammed as misinformation.
"Once you've arrived and got stage-four cancer and there's radiation and surgery and chemotherapy, that is incredibly expensive intervention — not just for the system, but also expensive in the toll it takes on the body," Smith said on her podcast early in the year, also suggesting you could control cancer so long as it's before a stage-four diagnosis.
During the COVID-19 pandemic, Smith pushed for later-debunked treatments such as the livestock dewormer ivermectin.
More recently, Smith came under fire in her first week as premier when she called unvaccinated people the "most discriminated" against group she's come across in her lifetime.
The premier did not apologize but said she did not mean to "trivialize" people who face discrimination.
Her office also issued a statement in which she apologized for comments she made about the Ukraine invasion and denounced the Russian invasion. She said her views "have drastically evolved" and promised to meet with community members to further relief efforts.
-With files from Hana Mae Nassar and Dean Bennet, The Canadian Press